Product Description
steel rebar support
Bar support also known as the erection of Stoll, metal pad, stool, metal horse stool, reinforcing steel bar stool.
1.Materials: low carbon steel (Q235), medium carbon steel and other materials.
2.Features: support of strong, good stability
3.Use: the product adopts the new technology,which is mainly used for building and infrastructure engineering Foundation, underground works or bridge, and other large bearing parts of reinforced fastening, large building industry-layer or multi-layer steel connection between. 
4.Bar support Specification sheet
| | | |
| --- | --- | --- |
| Size(mm) | Diameter(mm ) | Weight(gram) |
| H-30 | 4.0mm | 31 |
| H-40 | 4.0mm | 33 |
| H-50 | 4.5mm | 38 |
| H-60 | 4.5mm | 45 |
| H-70 | 4.5mm | 52  |
| H-80 | 4.5mm | 57 |
| H-90 | 4.5mm | 62  |
| H-100 | 4.5mm | 71  |
| H-110 | 5.0mm | 92 |
| H-120 | 5.0mm | 97  |
| H-130 | 5.0mm | 100  |
| H-140 | 5.5mm  | 139 |
| H-150 | 5.5mm  | 149 |
| H-160 | 5.5mm  | 158 |
|   | WRC2 | WRC3  |
| Diameter (mm) | 2.9-3.0 | 2.9-3.0 |
| Longth (mm) | 204.4 | 304.8  |
| Width (mm) | 127 | 127   |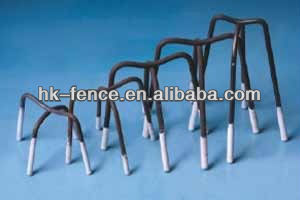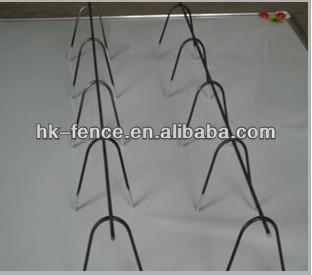 Product Categories : Wire Mesh Processed Products > Animal Cages